Nintendo DS R4 card, also called R4, R4 cards, R4 Revolution, R4i.
It includes those DS fire cards, like R4DS, R4 SDHC, Red R4i SDHC, DSTT, DSTTi cards, R4 Ultra, R4i Golden, R4i Gold revolution, R4i RTS and etc.
R4i-SDHC is SLOT-1 flash cards for NDS console series(support DSi). It is upgrade versions of R4 with multi-media features which can support SDHC and run most games and homebrews. It has widely been owned by many NDS player users.
R4i-SDHC is tested to support All version of DSi,like Japan,Euro and U.S version.
The Red R4i-SDHC is a multifunctional upgrade from the original R4 flash cart, which has enjoyed a great reputation in the global market. It not only has the functions of the original R4, but also has increased capabilities, such as support for the SDHC card.
R4i-sdhc can be compatible with the NDSi Firmware V1.41 well
We have released new cards to be used in the dsi v1.41 which was packed in the new package marked 1.41, since Sep 20th.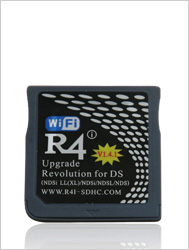 Functionality
World New Download Engine For Games.
A card provides all NDS games and unprecedented experience to the player.
Users just one click away from playable games download.
WIFI search engine function available with NDS/NDSi/NDSi LL. Users are able to search and
download the games and the latest game information according to their own preferences
anytime, anywhere.
You will be able to manage your NDS/NDSi/NDSi LL download by distance control through WIFI
once you install our Games-Engine Assistant on your computer. Users only need to click on the
games they want to download on NDS/NDSi/NDSi LL and the games can be downloaded
automatically tothe assigned computers. This can avoid the annoyance of waiting during the
download process.
Through our PC-based Games-Engine Assistant software, it is able to download our website's
NDS games quickly and easily.
Core upgrade automatically through WIFI of NDS/NDSi/NDSi LL to avoid tedious upgrading steps.
Able to memorize and restore to the previously selected game or application after restarting
machine and soft reset.
Sleep mode function, for power saving and longer standby time.
Multi-languages are optional, they are Simplified Chinese, complicated Chinese, English, Japanese,
French, German, Italian, Spainish and Dutch.
Friendly interface, easy to operate.
Realtime smart help windows.
Integrated the latest Moonshell 2.0 Beta version.
Game compatibility: 100%.
No need to flash. Built-in launch Slot-2 (gba) function.
Support SDHC micro sd cards (4GB、8GB、16GB、32GB).
Support DMA read and no lag while using any microSD card.
Support FAT16 and FAT32. Files can be transferred with PC, PDA, Cellphone and Camera.
Support clean rom and drag-drop to play. Fast loading.
Support NDS and iDS games. DS games can run on any DS versions.
Files are to be saved directly to TF card, copy or restoration is not required.
Automatically recognise saved new game types, no need to update the database.
Support moonshell and home brew.
Power saving design. Enter optimized mode automatically.
Double screen UI, abbreviated picture and game title display, button and touch operations.
Easy to use, setting or adjustment is not required.
Support Wi-Fi, rumble pack and browser expansion.
UI background can be changed.
4-level brightness adjustment.
Support soft reset.
Support AR cheat code.
Support soft-reset of moonshell 2.0 (back to main menu of R4 NDSI by pressing START button).
DLDI auto-patching.
Support Download play.
What the Package Include:
1 * R4i-SDHC Adapter
1 * USB 2.0 Thumb size Micro-SD card reader
1 * Protective Key chain
R4i-SDHC package::
R4i-SDHC luxury package

R4i-SDHC economical package

R4I-SDHC Upgrade

Revolution for DSi

(NDSi XL/NDSi/NDSL/NDS)
Where to buy
No related posts.